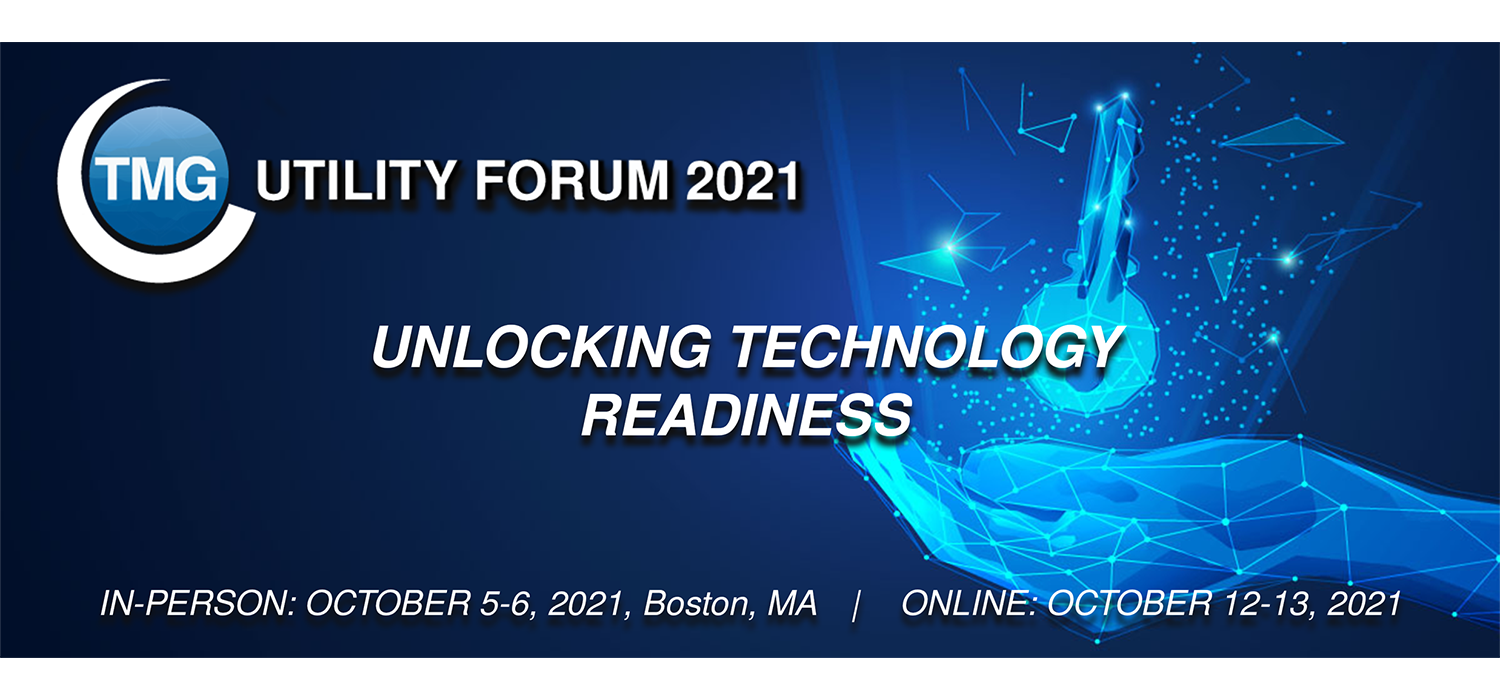 AUSTIN, Tex. —
TMG announced today that they will be holding the annual TMG Utility Forum as a hybrid event with an in-person gathering taking place in Boston, MA on October 5-6, 2021, and the virtual event on October 12-13, 2021. The 2021 Utility Forum will be focused on Unlocking Technology Readiness for utilities with a focus on Data & Analytics such as AI-Enabled Operations, Benchmarking for Growth, Business Technology Optimization, and Organizational Readiness & Change Management.
The Forum will build on TMG's long history and track record as the premier advisor to Utility IT deployments across the Utility Value Chain. TMG's customer-centric approach to technology planning, procurement, and implementation has been relied upon by dozens of utilities to help optimize large-scale technology deployments, de-risking investments, and positioning their technology deployments for success in tomorrow's dynamic utility environment. Attendance to the in-person event, as well as the virtual event, is complimentary for all utilities.
"We believe in sharing information….and today's utility executives face an unprecedented challenge when implementing new digital technologies and solutions," said Mario Bauer, Chief Executive Officer of TMG. "The annual forum brings together a powerful network of utilities (water/electric/gas) and solution providers that highlight projects, problems, and solutions occurring in the industry. In 2018 we had 23 utility companies, 33 utility companies in 2019, and last year 94 utility companies were represented with a focus on Bringing the Digital Utility to Life."
Members of TMG Professional Services, Advisory Services, and Research Services will be attending this year. They will explore strategic topics central to many utilities' digital roadmaps including solution and vendor spotlights highlighting recent innovations and practical examples from recent project successes, the importance of data preparation and understanding the business drivers, predictive analytics, and understanding the digital ecosystem for next-level customer engagement, metrics needed for growth in the digital age, and enabling technology to improve operations, meet growing demand, and address business model sustainability challenge.
For more information on sponsorship opportunities contact Ken Maness at [email protected], or click HERE to register for the event.
###
About
TMG Consulting is an advisory and professional services firm working with utilities to plan, develop, implement, and manage their ecosystem of digital technology solutions and service providers. Over the past 29 years, TMG has worked with over 300 utilities, matching their business needs with digital solutions, systems integrators, and implementation services to maximize the value of their customers and optimize and de-risk their IT investment. TMG brings deep experience across all major IT domains including CIS, Metering, Asset Management, Work Management, Resource Planning and ERP environments. TMG's clients include Utilities of all sizes providing Water, Gas, Electric, and Municipal Services in both regulated, competitive, and public power markets. Press Contact: Amanda Baak, Head of Corporate Branding & Marketing,
[email protected]